---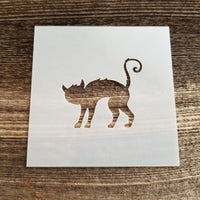 Black Cat Stencil Reusable Cookie Decorating Craft Painting Halloween Windows Signs October Fall 5.5" Mylar Cookie Stencil
Happy Wood Products
Regular price $7.00
Spend $25+ and get FREE SHIPPING in the USA!
Halloween Fall October Black Cat Cookie Decorating, Craft Painting Mylar Food Safe Reusable Stencil.

- Made in the USA
- 7.5 mil Food Safe Mylar
- Reusable
- Stencil sizes will have a .5-.75" border or blank space to allow for taping stencil down. (So a 5" x 5" Stencil Size is the Size of the Mylar--the design itself will be smaller)
- Need a larger size? Please contact us directly, and we'll do our best to work with you / create a special listing for purchase.

Great for making small signs, window displays, other craft projects, face painting, and more. Your Creativity is the only limit to uses of our reusable stencils.
PLEASE CLEAN stencil BEFORE USE.

To clean stencils - Rinse them in warm, soapy water, or wipe them with a damp paper towel, and lay them out to air dry. (NOT dishwasher safe)
-If you use with non-food safe products like paint, please do not reuse for edible items later.

Our stencils are great for decorating cookies. If you need a 5.5" x 5.5" stencil with A SMALL design size to fit a cookie, please message us a request, and we'll see if the specific design you're interested will work at the smaller size.
- Great for using with the Stencil Genie, Sweet Stencil Holder, and other Cookie Stencil Holders using an airbrush, royal icing, sugar, edible markers, etc. on cookies, large cupcakes, cakes, etc.

Love your stencil? We would love for you to share your pictures with us!

Please check out our various shipping options at checkout.